Exhibitors or service providers who need a parking permit for their vehicle for the entire duration of an event, may purchase a permanent parking permit from us.

A permanent parking permit always consists of two parts:

1. An A 5-format parking lot ticket for placing behind the
    windscreen for visual inspection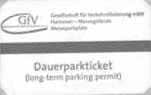 2. A credit card sized magnetized exit ticket for the duration of
    the event

The permanent parking lot ticket is valid only with both parts. Our staff at the parking lots is entitled to ask you to produce both parts!

The color of the A 5-format permanent parking lot ticket is event-related and does not include any assignment of parking spaces!